Investor Relations
Mobile Climate Control offers complete climate comfort systems for three main customer segments: Buses, Off-road and Defence vehicles. Approximately 80% of the company's sales take place in North America and approximately 20% in Europe. Major production plants are located in Canada (Toronto), USA (Goshen) and Poland (Olawa).
Mobile Climate Control is 100% owned by Ratos AB which is publically traded on the Swedish stock exchange (Symbol RATOB). Ratos is an investment company that owns and develops unlisted medium-sized Nordic companies.
Please contact us if you have any questions E-mail: xxx.@mcc-hvac.com.
See more about Ratos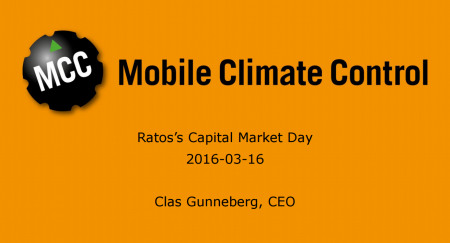 Ratos's Capital Market Day – 2016